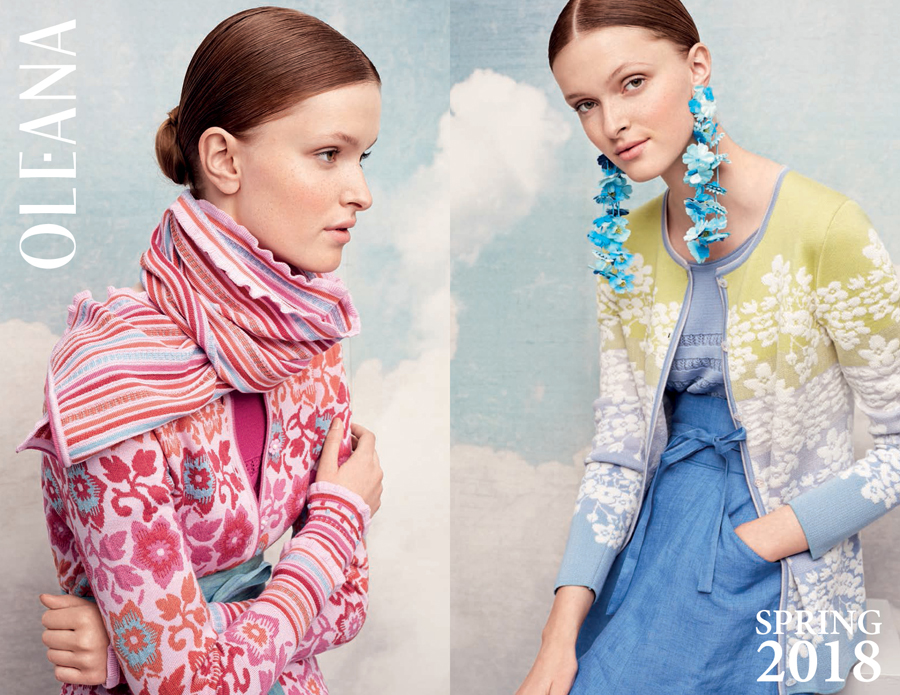 Click Here to Download our New Spring Oleana 2017 catalog
Click Here to Download the Complete Oleana Current Collection catalog
Click Here to Download our New Winter Oleana 2017 catalog
Click Here to Download our New Spring/Summer Oleana 2018 catalog
Join us for a video journey back through the First 25 Years of OLEANA and a Glimpse at the Future as seen through the eyes of the Next Generation at OLEANA as they start taking the reins.
We strongly suggest that if you can make the trip to Rochester, Minnesota to visit us that you do. You will find OLEANA's oldest and only dedicated OLEANA Boutique featuring the entire OLEANA Line and with a Staff of OLEANA Experts that can assist you with your next purchase. They know the entire line from the first sweater and wristlet all the way to the current Collection.

If you can't make it to visit us in person we always have the OLEANA Catalogs available on our Website. Although OLEANA does not allow us to post prices and sell on the web you can use our downloadable catalogs to do your shopping in dreaming. Our OLEANA Staff is only a phone call away and can easily assist you with your next purchase.

To place an order or to have any of your questions answered please call us Toll Free, 800-282-6673 and ask to be forwarded to one of our Oleana Specialist. Many of them have worked with OLEANA since OLEANA's first collection over 25 years ago. They can easily assist you with your questions or help you with your next OLEANA purchase.
We can be reached Toll Free:
1-800 282-6673
Weekdays, 9:30 to 8:30
Saturday, 9:30 to 5:30
Sunday 12:00 to 5:00 Central Time