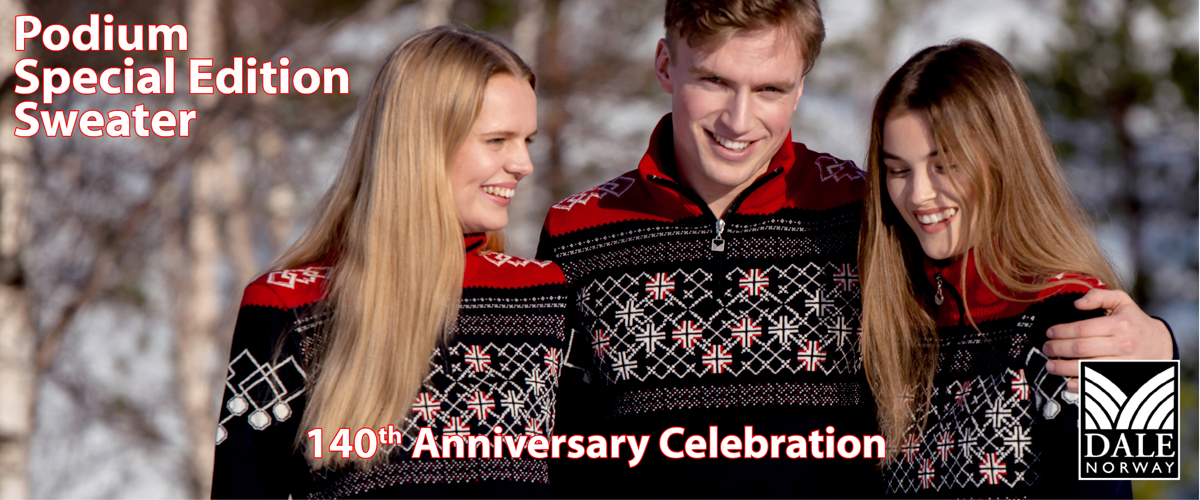 2 Months Supply of Sweaters . . . Sold in less than 24 Hours!
Yesterday's Launch broke all RECORDS for sales at The Nordic Shop. In less than 24hrs from when we unveiled the Sweater in our store we had sold 2 months worth of Podium sweaters. Unbelievable!
The Good News from the Factory this morning is that they are moving around production schedules to accommodate one more order of this Special Edition Anniversary Sweater. "We will guarantee that everyone who orders a Sweater before the end of May will get one." Any extra sweaters won't last long.
If you did not get a chance to order this Special Edition Celebration Sweater called "Podium" call 800-282-6673 to place your order or visit our Website before the end of May. The sooner the better. This will be your last chance to get this highly sought after Special Edition Sweater.
To the people who called and alerted us to a problem on our Website yesterday at the 10am Launch time. The problem was that there were "too many people" on the Podium pages that caused a brief bottleneck. Tech people caught the increased load and moved cloud resources to accommodate the increased traffic. By the time we contacted them they had taken care of the issue. We do Thank all of you for your patience and for alerting us. That obviously was a "first for us".

Don't wait to place your order. We will get them off to you as soon as the Factory can get them knit and shipped off to us. From the quote above from the Factory it looks like they will be coming out of production the end of May and shipped right after that. To save stress on whether you will or will not get your order we suggest you have your order placed before before May 24th.
As an incentive we will be shipping all domestic Podium Orders placed before the end of May for FREE via Priority Mail.

A BIG THANK YOU TO ALL OF YOU WHO CREATED A RECORD BREAKING LAUNCH DAY!!! WE HAVE NEVER HAD A DAY LIKE THAT AND PROBABLY WON'T SEE ANOTHER ONE LIKE THAT FOR QUITE SOMETIME.
THANK YOU AGAIN!
Walter and the whole staff of The Nordic Shop