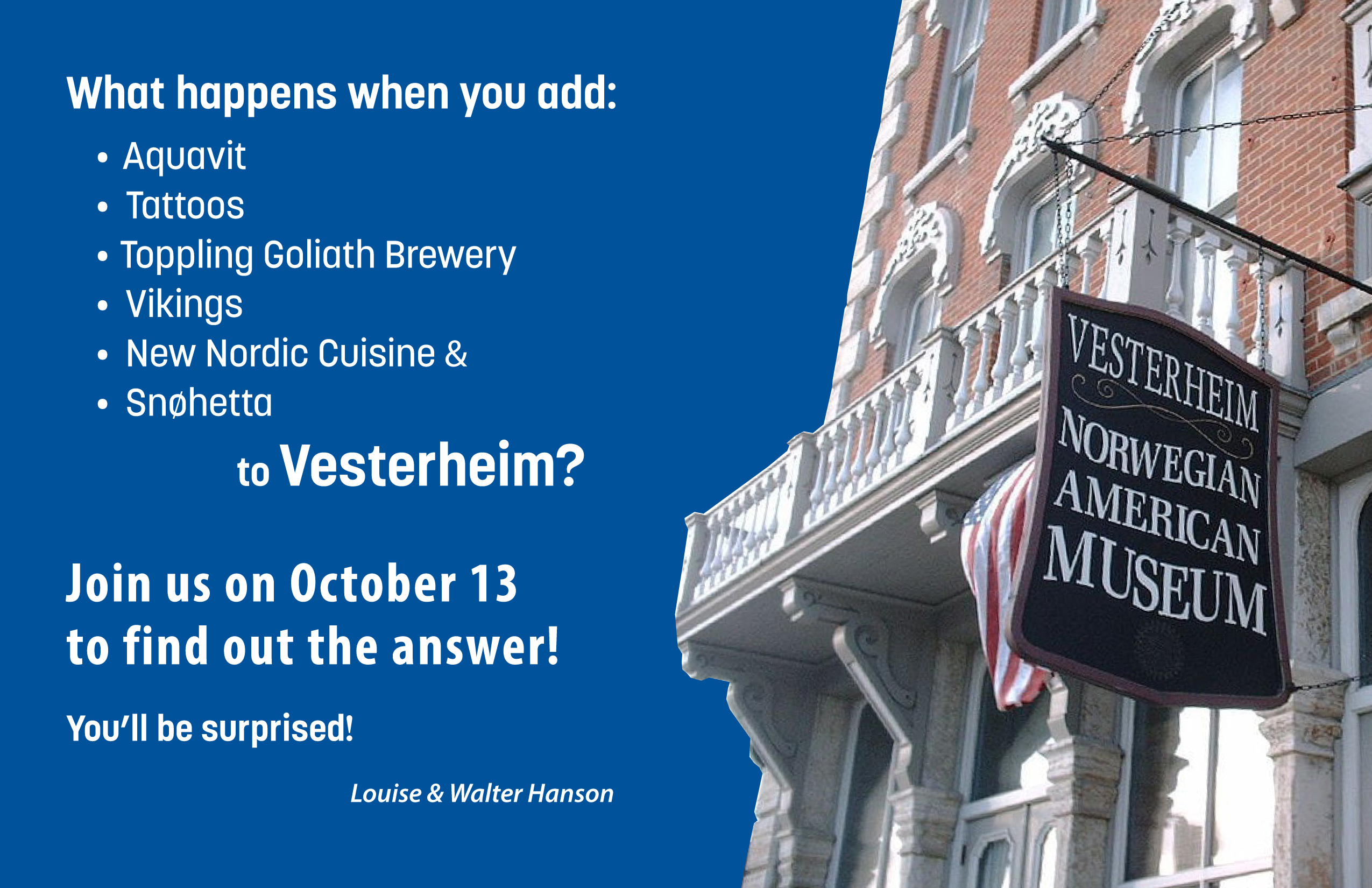 As many of you know our store has been in Rochester, Minnesota for 45 years. All during and even before that time there was an Internationally-known Museum, a short drive south of Rochester... Vesterheim Norwegian-American Museum in Decorah, Iowa.
Established by the early families in the Midwest as a Museum of Norwegian American Life, it has ever since functioned as a traditional Museum. It became a place that your Mom or Grandmother took you to to see the things that they remembered from their childhood or that their parents had treasured. You know the kind of place.
Suddenly, the vibe of the Museum started to change. It was not "that place" anymore, but the place where the past meets the present in a new, interconnected way. It is now the place to come for a New Experience.
Just recently, Vesterheim partnered with some Viking inspired tattoo artists, Norwegian Johan Frederik Knudsen and Norwegian-American Amund Dietzelto to create "Tattoo, Identity Through Ink". The exhibit explores the ways individual and group identities are formed, reinforced, and celebrated through tattoos. A powerful visual language of the skin, and, like texts, tattoos permanently record memories, life stories, and personal achievements, allowing us a window into the past and present, unique to that culture.
To kick this event off in a truly unique way, Vesterheim partnered with nationally known craft brewery, Toppling Goliath of Decorah to create a Valkyrie Strike Beer with the Logo of the exhibition as the label. The Beer sold out at the kick off event and is the talk of town and beyond. It has set a new standard for Opening Night Events at the Museum.
As you can see "This is Not your Grandmother's or your Mother's Museum" anymore. It is a place that is based squarely on its Scandinavian Roots, but is here to interact with you NOW.
We are hosting an event to give everyone a chance to "look behind the curtain", meet with the new faces at Vesterheim, and see what new and exciting things are on tap for next year and beyond. If you are around Rochester, MN on October 13th, we invite you to attend!
We have invited Kirsti Bissell, Scandinavian Chef and Blogger, (True-North-Kitchen.com) to come and prepare Scandinavian Smørrebrød while you watch and sample other Scandinavian Goodies, along with Beer and Aquavit. Kirsti is a contributor to the New Nordic Cuisine Exhibit that will be coming to Vesterheim in the future. This is your chance to get that "sneak peek" and have a fun afternoon with us.
Use the information from below to book your time for this one-of-a-kind experience and get the address.