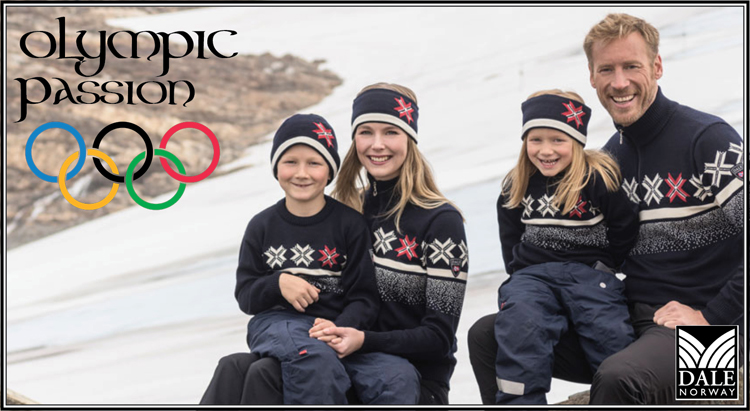 This year's Norwegian Olympic Team Sweater is called "Olympic Passion" and it lives up to its name.

The design takes its inspiration from Norwegian Sport Sweaters from Cortina, 1950's era. The main design theme is a stylized St Andrew's Cross which is common in many early knitting patterns from Norway and can be found in a Sweater from the late viking era on display in the viking museum. Since then it has shown up adapted in many forms both in knitting as well as in decorations from Stav Churches to modern day designs.
The Cross directly over the Heart is colored in Red, White and Blue to symbolize the athletes passion for the games and for their country. The inside of the collar is also detailed in the colors of the Norwegian Flag. A further reminder of their home country.
Below the St Andrew's crosses is "Falling Snow" a design element found in the Pyeongchang Winter Olympic Logo and also found in the design of many of the Swearters from the mountain regions of Norway. In Norwegian the term was Ljus and for many years Norwegian Sweaters were even referred to as Ljusekofte. Referring to the flecks of snow in the body of the sweater as they reflect light.
The strong Red, White and Blue color elements give this sweater a Classic look and has drawn many of our customers attention. Olympic Sweaters are produced for the time of the Winter Games and are generally not produced past the time of the games. Don't miss out on this Classic Olympic Sweater.
OLYMPIC PASSION - Red, White, and True Blue!
Olympic Passion Men's 1/4 Zip Sweater
Olympic Passion Women's 1/4 Zip Sweater
Olympic Passion Children's Sweater