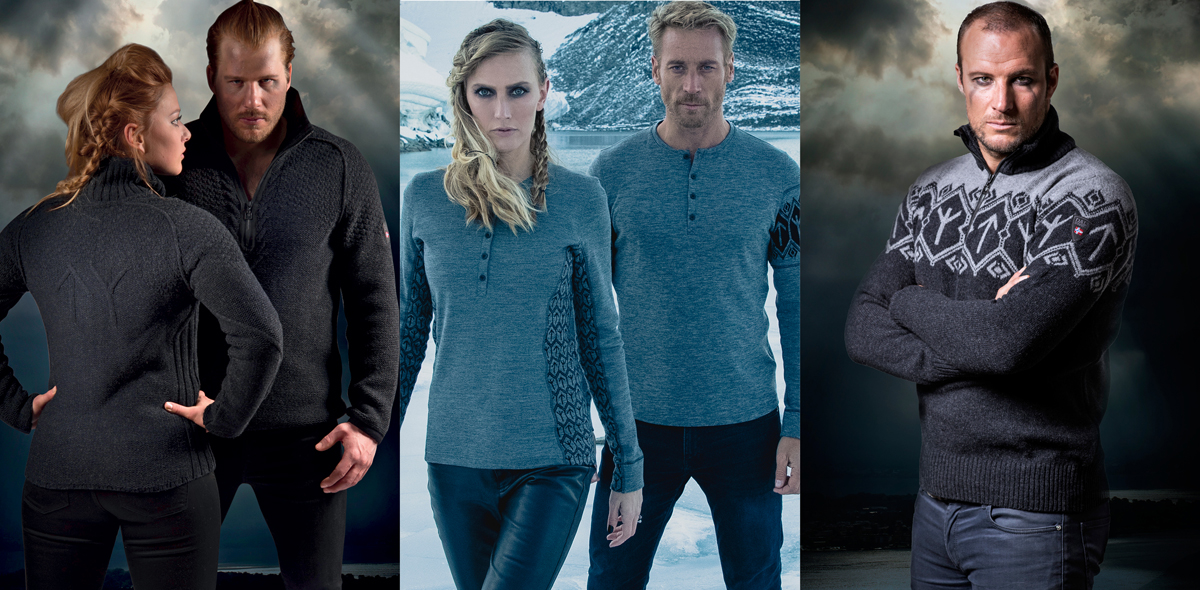 The VIKINGS are coming . . . Yesterday was the first day for the Norwegian Alpine Team to take to the Slopes at the Olympics and forged a 1 -2 Podium Finish. Today they are on the "Attack" again in true Viking Style.
At the end of the 2016-17 World Cup, the Norwegian Alpine Team, formally adopted the title of the "Attacking Vikings." They also asked Dale of Norway to develop a team sweater and matching gear they could wear in the 2017-18 Ski Season and Olympics.
Dale of Norway honored their request and created the Viking Collection to meet their needs. The focus point for the collection is the namesake "Viking" sweater. It is designed with a supersoft wool quality, spun from Merino lamb's wool, that is rugged in appearance, but superlight in weight. The advanced knitting structures creates the impression of a protecting breastplate with arrows along the zipper. The back is adorned with the two runic letters, symbolizing protection and victory. The arms of the feminine cardigan are decorated with beautiful cable knit, and the masculine sweater has knitted elbow patches. The sleeves are long with thumb holes. The fit and design elements create a modern, young look.
The second part of the Viking Collection is a new quality of base layer that Dale developed out of Super Soft, Super Fine Merino Yarn called "Viking Basic". These base layers are different than most of the ones on the market in that they are a "Shirting Weight." This means they are thick enough to be worn by themselves as a shirt without them being "see through" like most base layers that are on the market. This makes them the perfect daily wear for our Modern Day Vikings. Like the "Viking Sweater" they feature the runes for "protection and victory".
The third part of the Viking Collection is also a very new quality of skin soft merino lambs wool sweater called Tor for men's and Tora for women's. The pattern includes two runic letters, one symbolizing victory and the other symbolizing protection. This rugged contemporary design is perfect for the ski slopes, après ski or around town. The name Tora is the feminine version of Tor, the hammer-wielding god of Norse mythology associated with thunder and strength.
If you purchase one of our Viking Collection pieces you will notice that all the images used on the hang tags, posters, etc show the Norwegian Attack Vikings wearing their namesake collection. The Viking Sweater is the sweater that each member wears for all team events, including a special members' dinner at Olympic Park. They are a Viking family and share their experiences both on and off the slope.
We look forward to watching the escapades of these Attacking Vikings as they look to conquer the Alpine Region of Pyeongchang over the next several days.