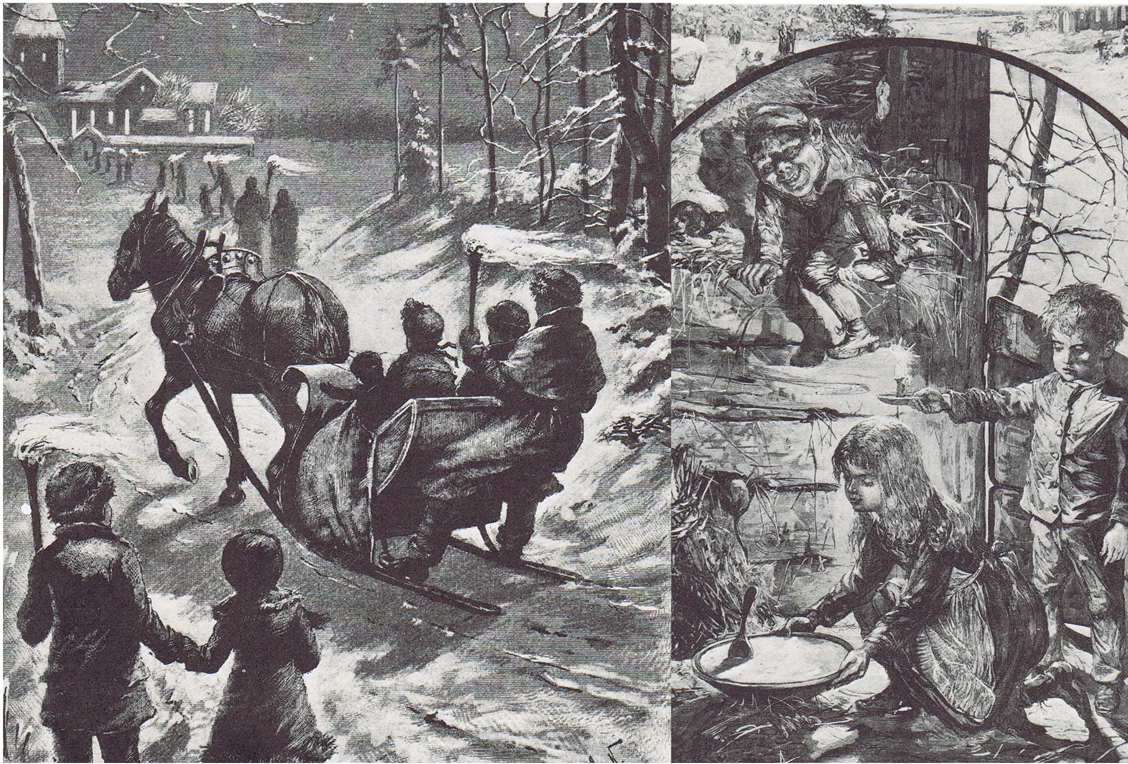 The Jul will soon be upon us. All last minute cleaning and work around the house and farm needed to be finished up by the Eve of the 24th. From that evening on for the next 5 days only necessary duties were performed. Those who chose to work risked having the Spirits of the Jul Season come to play pranks on them or worse. Sounds a little like what Charles Dickens would write about at a later time in England.
Many of our Christmas Traditions have their foundations in Scandinavia even though they are attributed to other countries. Here are just a few:
THE CHRISTMAS TREE, generally is accepted as coming from Germany. In Scandinavia Pine Boughs were harvested before the Solstice to add fresh and fragrant greenery into the homes. Early Vikings believed that the pointy needles of the pine trees helped to keep evil spirits at bay. As the Jul approached more boughs were brought into the home to decorate it. Many people would cut a large branch and hang it above the table to decorate it with Straw Decorations, the earliest version of the Christmas Tree.
SANTA CLAUS / ST NICHOLAS, of German origins started showing up after the Reformation. In Scandinavia the Nisse or Tomte was always the one who brought gifts or switches to the children. The Nisse or Tomte have been a strong part of Scandinavian history and tradition long before St Nicholas or Santa appeared in Germany. Every home had a Nisse or Tomte that looked out for the family and animals. They protected the family from the mischievous Trolls. They were seldom seen, but if you were quick and turned your head fast, especially during the Jul Tide you could catch a glimpse of him. Father always put out a mug of Christmas Beer and Rice Porridge with an almond, topped with heavy cream and butter for him on Jul's Eve, December 24th.
ADVENT CALENDARS, of Italian origins also started showing up after the Reformation. In Scandinavia people marked the time leading up to the Jul with candles that were lit to mark the progression to the Jul Celebration. Danish tradition has it that the very first Advent Calendar was created in Copenhagen. In 1904 we have the earliest record of widely distributed sales of Advent Calendars by the Danish Charity "Christmas Seals". For many years after Danish Advent Calendars were sold to benefit "Christmas Seals" charity work among children.
CHRISTMAS PLATES, or actually platters went back to early Viking Times. Platters of food, spices, and Jul Beer were given to each person who worked for you. These were known as Jul Platter. In 1895 Bing & Grondahl created the first modern Christmas Plate. The plate was a painted in what would become Denmark's signature "blue and white" depicting a scene in Denmark at Christmas Time. That was followed by Royal Copenhagen who introduced their first Christmas Plate in 1908. These were produced in limited quantities and as few as 350 of the 1895 B&G Plate are known to have survived and are highly sought after by collectors. Today's Christmas Plates carry on that tradition in an unbroken line and are collected all around the world.
The Eve of the Jul, December 24th was an evening for going to Church. However, to avoid the roaming Jul Spirits of ones ancestors Church services always began after Midnight. Everyone would carry torches to lead them to Church and would add them to the bonfire that was set outside the Church to ward off unwanted spirits. The Day of the Jul was reserved for spending the time at home with family. People did not venture out on that day.
December 26th, the Feast of Stephen's was the beginning of Jul Visiting. Bands of Jul revelers would make their way from house to house from then until January 6th. During that time if you were home and expecting guests you had your Welcome Light Lit in the front window. Warm Glogg was always served as soon as visitors arrived to take the "chill off" and to warm up the Jul Spirit.
I hope you enjoyed our little count down to the Jul. It was fun sharing with you some of the Histories and Traditions that are still part of Christmas in Scandinavia as well as with many Scandinavian Families here.
Glædelig Jul og Godt Nytår!

Resources:
Lar's Genuine Scandinavian Porridge Rice
2017 Bing & Grondahl Christmas Plate
2017 Royal Copenhagen Christmas Plate
2017 Norwegian Stav Church Ornament, Hedalen

Recipe:
Rice Porridge - "Risen Grot"
Ingredients:
Directions:
Combine Rice, Water and Salt in a 6qt sauce pan
Bring to a soft boil
Reduce heat to simmer and cook for 10 minutes covered.
Stir in the milk and cinnamon stick.
Turn up heat to Medium High and bring to a boil while stirring constantly.
Reduce heat to simmer and cover so Porridge will thicken, about 30-40 minutes.
Stir every 10 minutes while Porridge is on Simmer.
Serve warm with milk, sugar and cinnamon. Serves 6-8.
**** For Christmas place a whole blanched almond in the Porridge while stirring on Simmer. Whoever gets the a small ornament of a Nisse/Tomte.