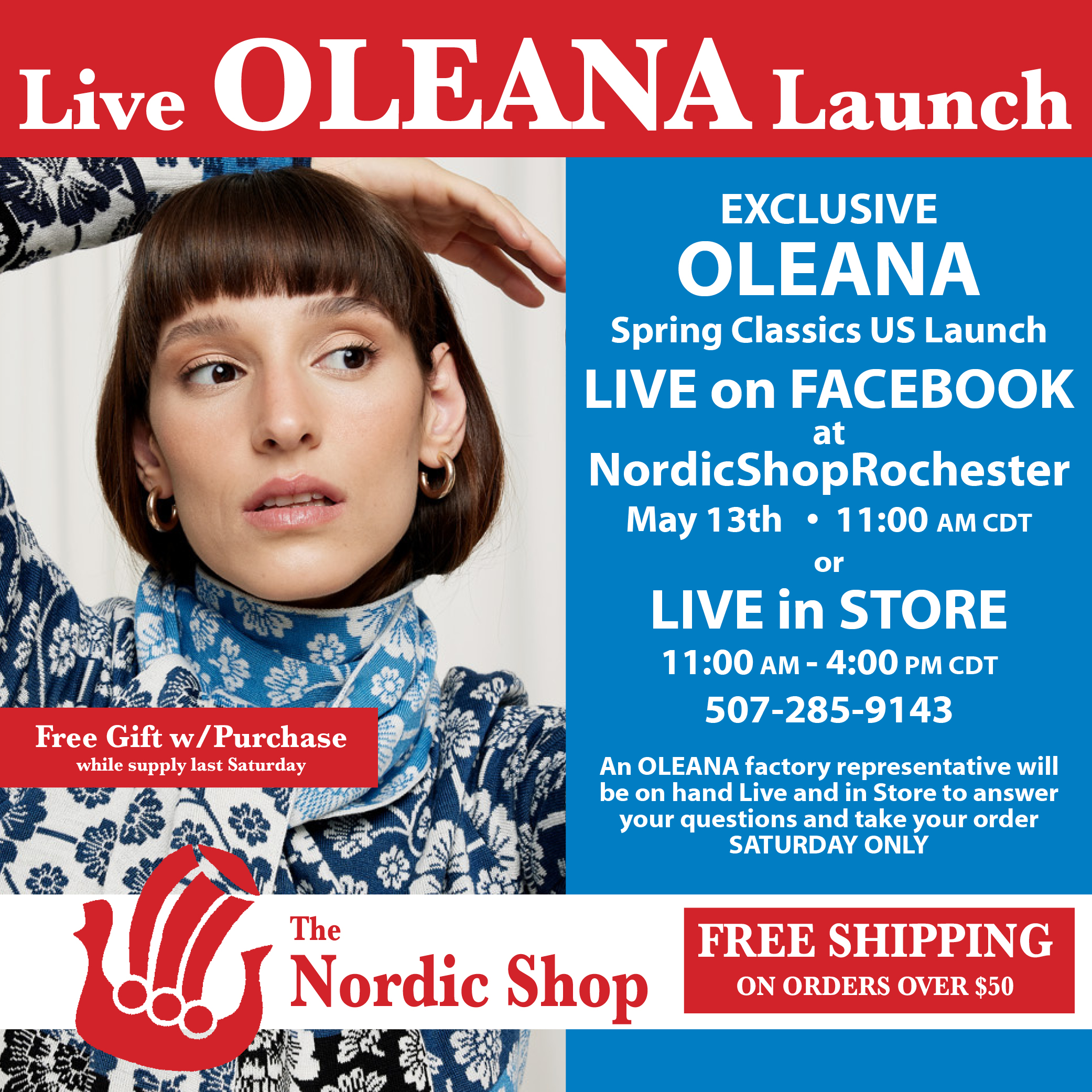 The Nordic Shop is excited to announce the First Ever OLEANA Spring/Summer Launch of their New Classics Collection created for the United States. We have been selected to do a LIVE LAUNCH of the new collection both LIVE on Facebook and LIVE in our store in Rochester.
YOUR PERSONAL INVITATION

Date: Saturday, May 13th
Time: 11:00 am Central Daylight Time
Where: Facebook at "NordicShopRochester"
The Nordic Shop, 111 Broadway Ave S, Skyway Level, Rochester, MN 55904
What: The US Launch of OLEANA'S new Spring Summer Classics Collection that marks a turning point for Oleana with a larger nod to their Classic Roots expressed through a new lens. We are excited to be able to be the Launch Point for this new Collection.
A representative from OLEANA will be Live with us both on Facebook at our Live Event and at our store in Rochester. She will be there to answer your questions that day and to help you with your order.
As an EXTRA BENEFIT we will be offering FREE SHIPPING on all orders placed that day for shipping within the contiguous 48 states. PLUS we have a Special OLEANA Gift included with every OLEANA order placed that day only.
We have had a hand in shaping this new collection. Over the past several years we have been pushing for a new collection that takes its inspiration from past collections during the first 25 yrs in OLEANA'S history and reimagining them with a fresh sense of style that will make them a Must Have for future generations of OLEANA customers.
Immediately after this event wraps up Louise and I will be heading over to meet with Gerda and Steffen at OLEANA and update them on all of the feedback from the event. We are all excited to be able to be part of this exciting event and to become the US Home for OLEANA Classics in the US.
Don't Miss Out On This Special Event!!!
Louise, Walter and The Nordic Shop Staff