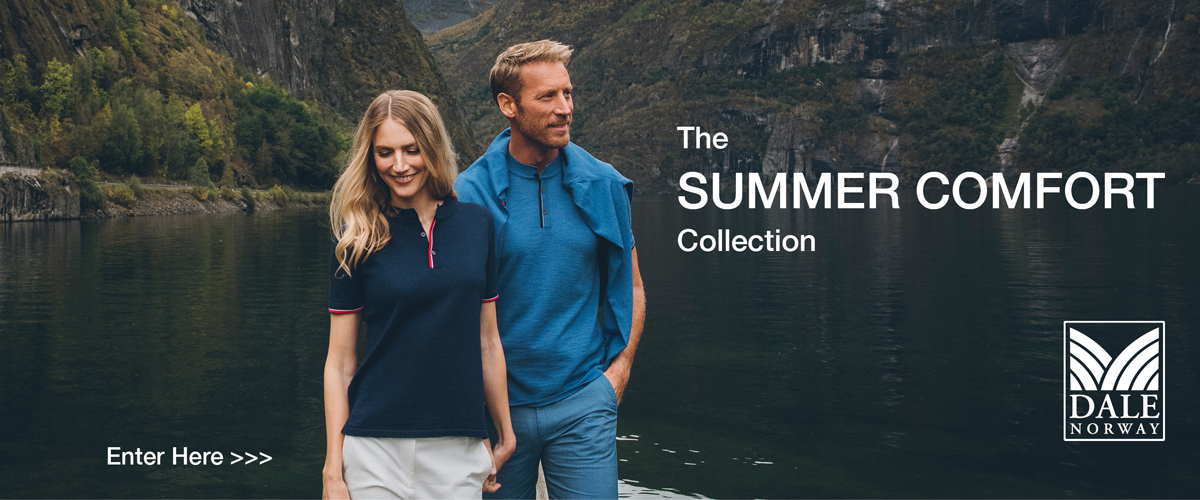 The New Summer Comfort Collection is arriving as I type. We will be one of the first stores to receive all the new designs for this year. Dale's Head Designer, Svanhild Strom, has been working hard over the past few years to make this Collection a reality.
The 2018 collection will feature fantastic Norwegian Merino Wool Polos and Tees along with Summer Weight Sweaters that move from play ground to ballroom without skipping a beat. Dale's unique Merino Wools have the feel of fine silk.
Many years ago I asked my Grandfather why he always wore wool underwear. Now living just outside of St Louis, wearing wool underwear in the summer seemed strange to a young lad like me. His answer was it was "more comfortable". Fast forward to working with the people at Dale of Norway all these years and learning about wool made me realize my Grandfather knew more about comfort than I did.
Today we all know that one of the worst things to wear in hot humid weather is cotton. We certainly have had more customers from parts of the world where warm weather is part of normal life. They never bought our cottons from Blue Willis in Denmark and always bought light weight wools. They too knew more than we do about comfort in the Summer. Merino wool and especially the Norwegian Merino Wools used by Dale are ideal for warm weather. They hold no bacteria (no odor), do not absorb water like cotton and as a result act like an air conditioner. They actually wick moisture to the outside of the garment so it can evaporate. The result is you never have that hot and sweaty feel while you are wearing Merino. When the temps dip at night and the breeze picks up that same Merino keeps you body temperature.
It seems everyone is starting to extol the virtues of wool these days. However there is a BIG Difference in wools. Dale has developed sheep to create the finest yarns and even pioneered many technical wool designs, but their biggest secret is that they use "pure new wool" for all their sweaters. That is the first shearing of wool after the long harsh winter. The sheep naturally produce a wool that is richer in lanolin and thicker to protect them from the harsh conditions in the mountains on the Western Coast of Norway. That one shearing is the highest quality yarn and the only thing that they have ever used in their sweaters. That is why the sweaters feel more like silk than traditional wool and why they will wear for several generations.
We are proud to be able to show you this years new designs. No matter where you live these pieces will make your life more comfortable for years to come. Start Browsing Now