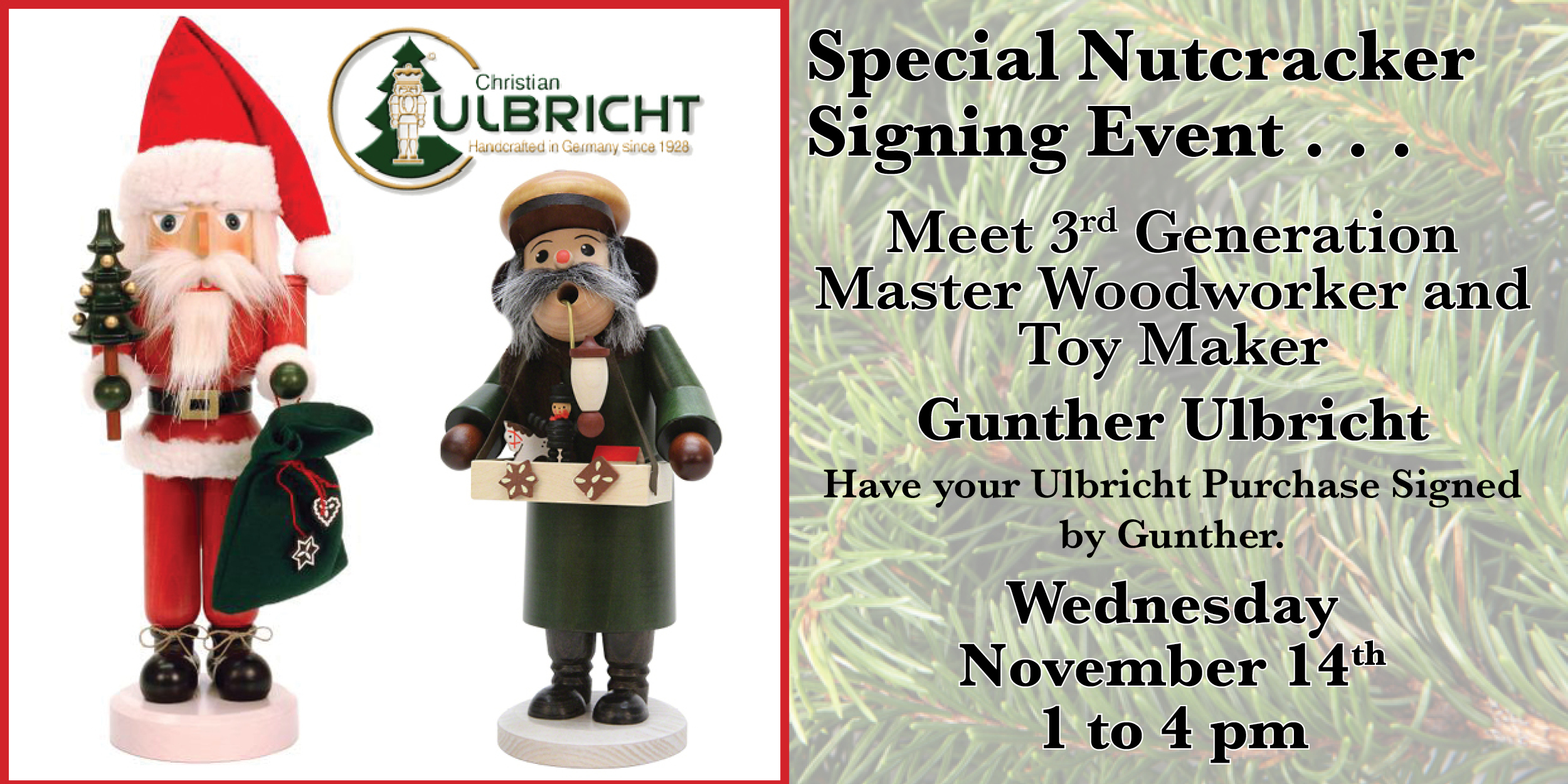 Seldom do we ever send out a NEWS FLASH like this. Gunther Ulbricht is the 3rd generation head Woodworker and Toy Maker at Christian Ulbricht and he has made a surprise visit to the US to see some of his Father's favorite stores across the US. We only just learned that Gunther has started his trip from up state New York today and will be in Rochester on Wednesday, November 14th from 1 to 4.
Christian Ulbricht was started in 1928 in Seiffen, Germany by Gunther's Grandfather Otto. It became synonymous with fine handcrafted wooden Christmas items like Nutcrackers and Smokers. Back at the Paris World's Fair Otto won numerous Gold Medals for his craftsmanship and design.
We were fortunate enough to have met and been friends with Gunther's Father, Christian. When World War II came to an end the Ulbricht family fled to Lauingen, Germany to flee occupation. It was there that Otto started a new workshop named after his new son, Christian. When Unification came about in 1990 Christian moved the company back to his Father, Otto's original location in Seiffen where they have been ever since.

Christian loved to tour the US in the early Fall of the year and enjoyed spending a long weekend brake here in the Midwest playing golf and relaxing. We remember him coming in for a visit one year only to find that we had procured one of his Life Size Nutcrackers, The Toy Maker, which greeted Christian as he entered the store. Needless to say he was surprised as there were only 3 of them ever made. One was in his collection, one went to the company store in Seiffen and one was sold to the US importer who knew we were waiting for something like that. I can't tell you how happy Christian was to hug his friend. He posed for the local paper with his arm around the shoulders of his Toy Maker.
Over the year's the visits to the US have become less frequent until Christian's Son Gunther became head of the company. This year we did not expect him to make the trip due to his mother's health. But to our wonder and surprise we got a call from Gunther and he is planning on being in Rochester on Wednesday, November 13th from 1 to 4.
If you are in Rochester this coming Wednesday Afternoon please stop by and meet Gunther. He would love to explain the history behind each of his company's Nutcrackers and Smokers as well as sign any of your Purchases. This is a Special Event and seldom do you get this chance.
We Hope To See You There!
Walter
ps: If you would like a piece signed for you and you can not be here call us Toll Free at 800-282-6673 and we will be happy to help you with your selection, have it signed and shipped off to you.