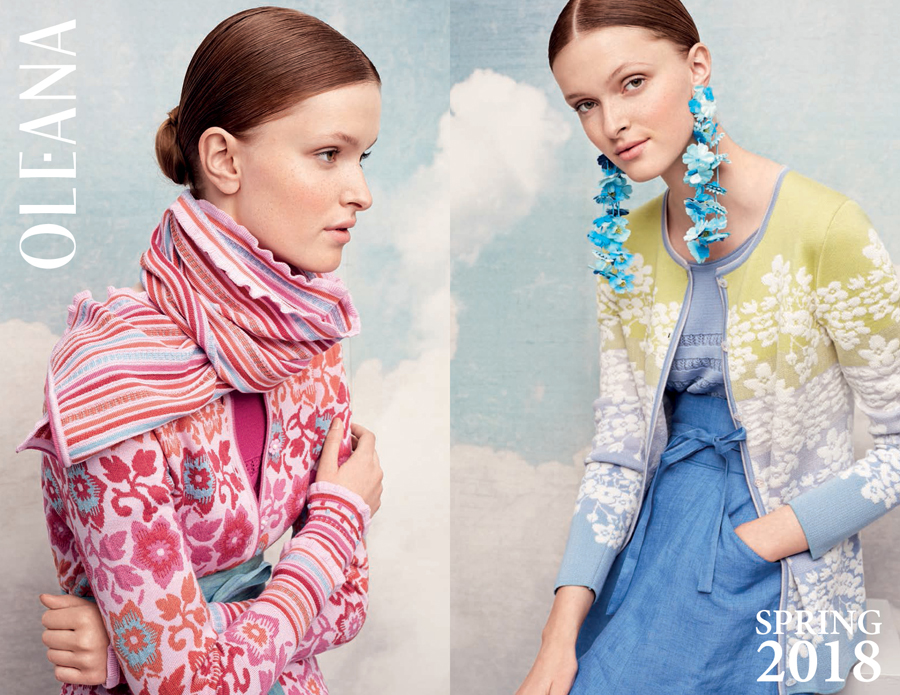 Our first experience with OLEANA was in late August of 1992. We had come to Oslo on a buying trip and were walking around downtown after dinner when it started to rain. As we were heading back to our hotel, we saw an outdoor exhibit by the Norwegian Handcraft Guild and decided to investigate.
There were the usual items that you would expect—rosemaling, carvings, Hardanger work, jewelry and crystal, all displayed in acrylic boxes set up along the water a short distance away from City Hall.
Then we saw the sweaters. They were unlike any we had seen before. As we kept walking, we saw skirts, tops, wristlets and scarves that combined to create an entire look. Despite the rain, we moved from display to display like birds following a bread crumb trail. As we neared the final displays, we saw someone replenishing some brochures.
That someone turned out to be Kolbjorn Valestrand, one of the original founders of OLEANA. He handed us a few brochures and explained that this was the first showing of OLEANA to the world as part of the Hardcraft Guild's display. He looked familiar and we later learned that he and all the founders of OLEANA were former Dale of Norway employees and that they had a vision of a new style of Norwegian Sweater.
We asked if they were selling anything in US yet and he indicated that they were just starting to take orders in Norway as part of the Handcraft Show. Not even asking we started circling items in the brochure and marking sizes and quantities and handed him a copy like the one we had marked up along with a couple of our business cards with our contact information.
Luckily he also recognized us from Dale of Norway and kept telling us that it would be no problem to ship to us. In early October we got a notice that we had several boxes for us to clear through Customs and at the same time we got a Fax from Oleana with an invoice.
We quite literally were OLEANA's first customer. Since then, we have sold a lot of OLEANA and are OLEANA's oldest and largest boutique in the US. We carry the entire line all year round and always have restock orders in with OLEANA.
Now that OLEANA has celebrated its 25th Anniversary the original founders are starting to slowly let the next generation come into its own at their new home in Ytre Arne. The voice of that new group is Gerda, whose mother is one of the founders, Signe Aarhus.
It was fun talking to Kolbjorn and Signe at our home earlier in February as snow created a magical landscape outside. We have grown up together. They know our family and we know theirs. Both sets of kids are setting their sights on doing great things and it was fun to catch up and to hear what changes are starting at OLEANA.
We greatly look forward to the next 25yrs . . .
2018 OLEANA Spring/Summer Collection PDF
Download now and start your shopping!