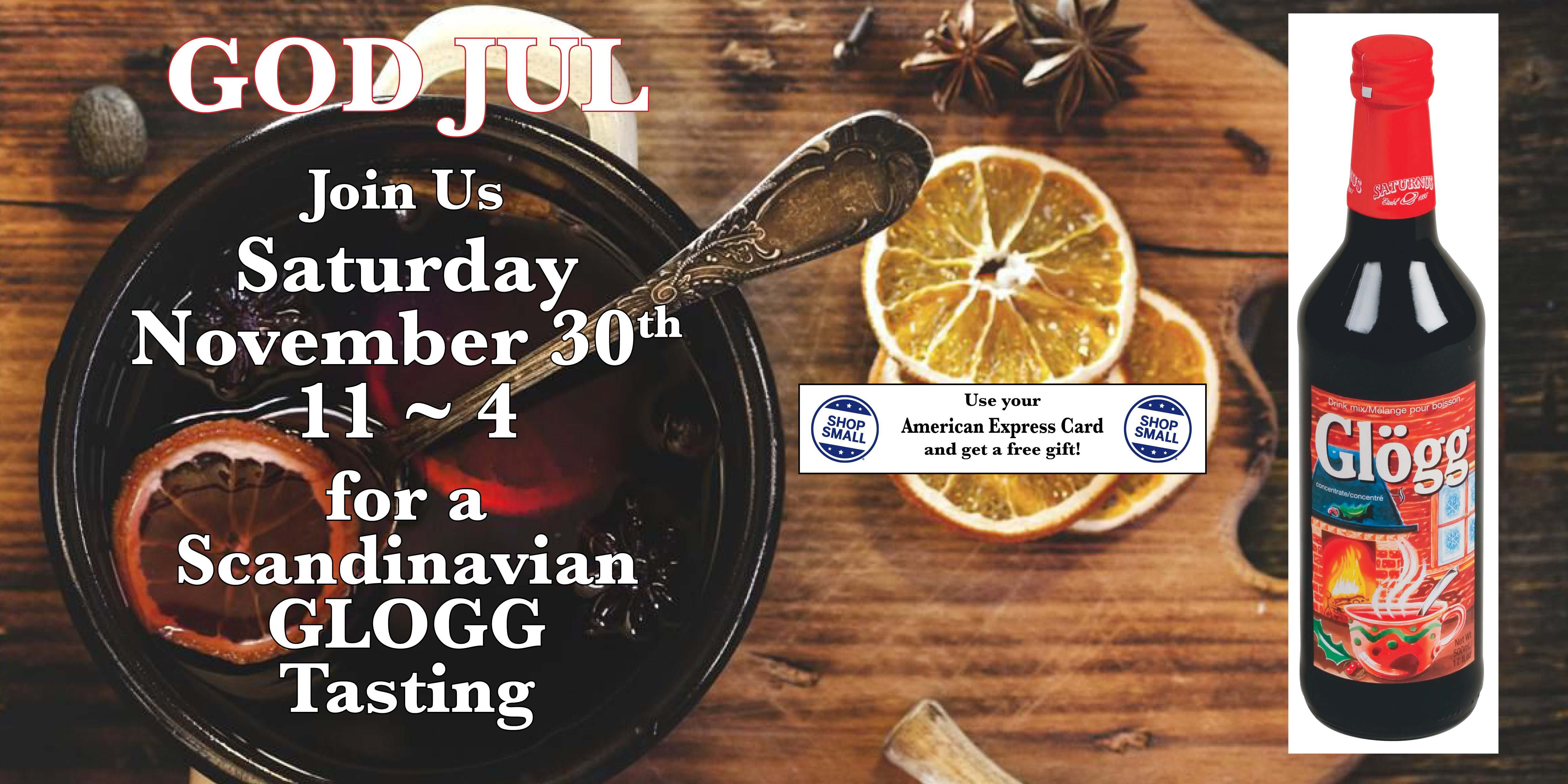 The leaves have fallen, the first snowflakes have danced past your nose. That only means one thing . . . It is time to stoke up the fire and put on a Pot of good old Scandinavian Glogg. Weather you like to do it from scratch or use a mix nothing takes the Chill Off like a good pot of Glogg.
Glogg is Scandinavia's answer to mulled or spiced wine, but with a notable difference, Aquavit. Aquavit is quite literally "the water of life". In Scandinavia we celebrate many Special Occasions with a Toast of Aquavit. Why not put it in Mulled Wine to add a touch of "Life" to the cold Winter.
Saturday, November 30th as part of our American Express "Shop Small" festivities we are going to be serving two versions of our favorite Scandinavian Glogg both an Adult Version and Child's Version. In addition to sampling our Glogg we will have a tasting our some of our Scandinavian Goodies. Use your American Express Card and get a FREE GIFT.
If you can't join us for the Event you can at least take advantage of our Saturnus Glogg on line, supplies are LIMITED.

Enjoy the JUL Time and lift up a Toast to "Peace and Happiness".
Walter
ps: Here is my never fail recipe using our Saturnus Glogg mix for you to enjoy. I used to make my Glogg from scratch from my Danish Grandmother's recipe. However since we have started importing the Saturnus Glogg mix it has replaced me making it from scratch, but there is a secret to making it taste just like Grandma's and here it is.
Walter's Saturnus Glogg Recipe
In a heat resistant pot combine the bottle of Saturnus Glogg Mix with a 1.5 ltr. bottle of dry red wine. Add raisins and slivered almonds and heat to just below simmering. Do not boil.

Before serving add up to the same amount of Aalborg Taffel Aquavit or Linje Aquavit as Glogg Mix. If you like a Lighter Bodied Glogg add up to 150 ml of Aquavit, for a Medim Bodied Glogg add up to 250 ml, and for a Stouter Bodied Glogg add up to 500 ml. Stir and serve warm.